EVERLIGHT attended Integrated Systems Europe for the first time to demonstrate signage LED components for indoor and outdoor applications including all dimensions, packages, viewing angles, and performances. The HNB2727, HNB1921, HNB1515 series for outdoor applications as well as 18-035(0505) for indoor signage achieve true color in high resolution with advanced technologies and have passed multiple reliability certificates.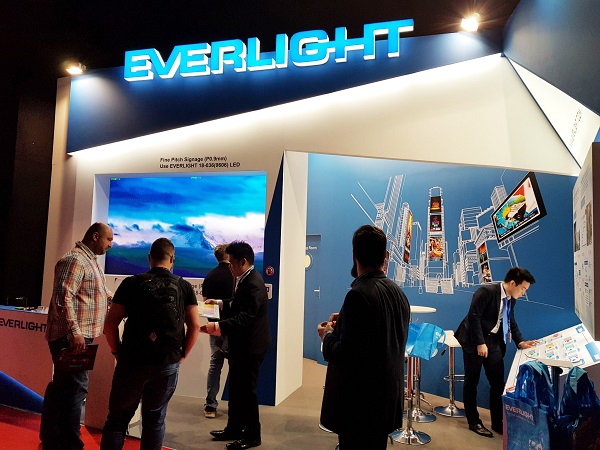 (Image: EVERLIGHT)
For outdoor signage applications, EVERLIGHT provides PLCC and Lamp packaged products. The PLCC-packaged series HNB2727, HNB1921 and HNB1515, as well as a RGB full-color LED series in PLCC, use an enhanced structure and ink brush/dark support to effectively promote the screen consistency and contrast. All outdoor signage modules installed at our booth demonstrate best water-proofing. The HNB2727 series is specially suitable for signage applications with a pitch of P5-P8mm. The HNB1921 and HNB1515 series are suitable for outdoor applications with a pitch of P2-P5mm. In addition, EVERLIGHT also provides LEDs for outdoor signage in Lamp packages with narrow viewing angles and different sizes.
EVERLIGHT's outdoor LED series have all passed a 3000 hours reliability test and proved luminous decay less than 10%. They are certificated with IPX8, provide UV and sulfur resistance, and wide viewing angles to present display effects with maximum resolution.
EVERLIGHT has been promoting fine-pitched LEDs for signage since 2010. As a product leader in LED packaging, we continuously miniaturize LEDs to ever smaller pitches. The 18-035 (0505) and 18-036 (0606) series are RGB LED packages with the latest minimal size. By repeated high-density design verification, we can implement a pitch of P0.7mm to achieve seamless connection at micro pitch and true color. Products with small pitch must pass 13 reliability tests and luminous decay less than 5%. EVERLIGHT is the first enterprise in the industry to have passed an 8000 hour reliability test.
For the part of special signage, EVERLIGHT developed pixel sharing (virtual pixel) and see-through screen applications. The 19-049 RGGB model, designed with pixel sharing, can simultaneously drive chips in different LED packages by doubling the scanning frequency of the IC and reach the virtual effect of a P0.6mm high-density pixel for a panel in terms of vision persistence. Such pixel sharing can achieve the desired screen effect with micro pitch without increasing the mounted quantity of LED and SMT. For see-through screen applications, top-view LEDs are commonly used on the market. Yet, EVERLIGHT's 99-235 and 22-23 side-view series provide smaller emission gaps in the see-through screen and a more three-dimensional stereoscopic display – a landscaping priority of core landmark and business districts worldwide.
By combining the R&D, business, and market teams, plus the professional ability in the industry for over 35 years, we continuously pursue the innovation and breakthrough on the package technology so as to provide perfect products for customers.